DANIELLE CHEKAY – Throughout the past 11 years of my life Ringette has played an important role in the way I live my life and has shaped me to be the person I am today.  Not only has the sport allowed me to learn what it means to work as a team and be competitive while still having fun, but it has also given me the opportunity to make many new friendships that I know I will carry on throughout the rest of my life.  Along with the life skills Ringette has taught me, playing at a high level has also allowed me to keep in shape and maintain a healthy lifestyle.

Throughout my Ringette career I was able to have the opportunity to play seven of those years at an A/AA level.  Playing a sport at such a high level calls for an intense time commitment from all of the athletes on the team.  Trying to balance school and sport is hard at times, but I have managed to balance the two successfully finishing with and 82% average in my first semester of university as a full time student.  With both school and Ringette taking up most of my time throughout the week I have also managed to keep a part-time job working four days a week.  Throughout high school participated in many extra curricular activities such as volleyball, soccer, peer support, and a member of the LIT hospitality committee.  Although I have not had the same opportunities to participate in as many activities in university I have increased my community involvement by volunteering at the food bank and coaching the U8 Bunnies Ice Pirates Ringette Team.

While playing Ringette for the past seven years I have not only had many accomplishments with team members but also as an individual.  I have had the opportunity to participate in two Western Canadian Ringette Championships and four Canadian Ringette Championships.  Throughout those years I have grown as an individual and as a member of an elite team.  Along with nationals and westerns I was given an amazing opportunity to be asked to try out for Team Canada West for the U19 World Ringette Championships in 2013.  This year I am playing with the U19 Bandits hoping to represent Ringette as Team Saskatchewan at the 2014 Canadian Ringette Championships in Regina.  Along with my club team, I hope to be able to represent Ringette in the Canada Winter Games as a member of Team Saskatchewan.

---

AMANDA CLEMENT – Play it Love it. Live it.  Ringette is the sport I love and a form of education for me.  Throughout my twelve years of playing, I have developed into the person I am today.

As a player I have discovered exercise is my release.  When I am stressed, I think, "get me on the ice"  Skating until my legs burn, shooting the ring until my arms are heavy, and breathing in deeply the smell of fresh ice cleanse me of my problems.  Consequently after training, I am in my optimal state of mind for studying; I become focused and energized.  Ringette is an important aspect of my life because it has truly shaped me into the young woman I am today.  I've learned to be independent but also to put my trust in other peoples' hands due to my interactions and friendships with my teammates.  I have learned what leadership means and display these qualities on a daily basis.  I have learned true heartbreak during tough competitions and this has taught me to never boast or be over-confident; overconfidence can mean instability and can usually lead to downfall.  I am strong because of ringette in all aspects of the word.

Over the years, I have been honoured to represent Saskatchewan at the WCRC's and CRC's.  I have won several awards (Most Valuable Player) and have been graced with being selected and voted as team captain.  These treasured experiences have helped me grow into a positive role model and have instilled in me trust, determination, grit, and sportsmanship.

I also contribute to ringette by officiating for the Ringette Officials Association of Regina and have been wearing the stripes for seven years, almost eight.  I started out shy and intimidated, but gained confidence by officiating; I have been moving forward ever since.  In 2009 I helped coach a U12 ringette team, teaching the players basic skills and strategies.  It was rewarding to see the kids' smiles and hear the parents' comments on their child's improvement.  It is a great feeling when I can say that I gave back to my ringette community by making a difference in the girls' play and lives.  I still see these players around the rinks in Regina and it's incredible to think that I've helped them get where they are now.  The girls I helped coach in 2009 are now young ladies that lead their teams on the ice.  Through officiating and coaching I have gained patience, a deeper understanding of the sport and many positive experiences.

When I am not officiating or playing ringette I can be found playing broomball on a different ice surface.  I have played this competitively for the past three years and have competed in four national competitions representing Saskatchewan.  I play for the Odessa Juvenile Flames as well as the Regina Senior Ice Devils teams.  I enjoy the opportunities I receive while playing for these teams.  I also play on a mixed recreational broomball team with my mother, father, and brother.  Apart from sports I work at the RCMP Heritage Centre and I can also be found studying at home for my classes or spending time with family and friends.

My university studies are of major importance to me.  I am in my second year and I am enjoying my courses.  After I receive my Bachelor's in Kinesiology and Health studies from the University of Regina, I intend to pursue physiotherapy school to become a renowned physiotherapist and help give back to my community.

Ringette has positively enhanced my personal development.  I have grown physically, intellectually, and emotionally over my years of competitive competition and officiating other passionate players like me.  No matter the age, skill level, or competition, ringette is the sport I love.  As I have fostered the love of ringette at such a young age, this passion for the sport will continue on with me for the years to come.

---

NIKI MATCHETT – I have been involved in with ringette for 19 years, playing for 18 years and officiating for 12.  I started playing at the age of 6 and have continued playing up to and including this year, with taking 1 year off for my studies.

During my 18 year of playing, I have played B/C ringette with the exception of 1 year playing A ringette.  Playing ringette has given me the opportunity to travel to different cities/provinces and gain knowledge about the sport in other places.  These travels have resulted in achieving many medals from Bronze to Gold.  I have been to the Provincial Championship 3 times winning a Silver Medal each time.  In 2003, I volunteered to help out with the player evaluations.  In 2005, I volunteered to run the Shot Clock for the Western Canadian Ringette Championships held in Regina.  I am currently trying to find time to volunteer at the Canadian Ringette Championships held in Regina this year.

Throughout my 12 years of officiating, I have held 2 positions on the ROAR Board.  In the 2007/2008 season I held the title of Ombudsmen and held the position of Vice-President of ROAR during the 2009-2001 seasons.  I have officiated in the 2010 Western Canadian Ringette Championships in Winnipeg, MB, the 2012 WCRC's in Kelowna, BC, and the 2013 WCRC's in Regina, SK.  I am currently a level 3 official working on my level 4.  I hope to one day have the opportunity to officiate at the National Level.  I have developed many skills in handling and resolving conflict with parents, coaches and players.  This has helped me grow into a strong woman and has given me the confidence to become a mentor for out new officials to help them progress with their skills, as well I have completed the evaluator's clinic to become an evaluator for ROAR.

I have always enjoyed playing ringette and hope to never give the sport up.  Ringette has given me many memories throughout the years.  I have mad many friendships with players, coaches and officials.  Officiating ringette has made me a stronger person and has helped me decide my career path.  I am attending the University of Regina, Majoring in Justice Studies and Minoring in Psychology.  Once my degree is completed I plan on becoming a Youth Care Worker at one of Regina's Youth Centres.

---

TEAGAN McMILLAN – I am a dedicated player that has been playing ringette for 13 years.  Three of these years I played at the AA level and one at the A level.  I have attended and had the privilege of representing Team Saskatchewan at both the Western Canadian Ringette Championships and the Canadian Ringette Championships.  Aside from playing I also coach.  I have been coaching the Regina Ringers for the past 3 years, this year at the A level.  Lastly, I have also been an instructor for Chris Budzich's Skills camp for the last two years and at the National Ringette School this past summer, sharing my knowledge with younger girls.

I am very passionate about ringette.  It has taught me many different life skills such as dedications, discipline, and perseverance.  These skills also apply to my everyday life and will help me to succeed outside of ringette.  These skills have helped shape the person that I am today.  Ringette has taught me that hard work will pay off.

Outside of the rink you can find me doing a variety of different things.  I work two part time jobs at Brown Sugar Tanning & Day Spa and for the Regina Pats.  Otherwise I am focusing on my school work.  I am in my first year enrolled at the University of Regina in the faculty of Education with a major in Drama and a minor in English Literature.  I also try to do some volunteer work.  I have volunteered at Santa Maria, various activities at Thom Collegiate, and Regina Ringette activities such as Come Try Ringette.  Lastly I enjoy spending time with my friends and family.  Throughout all of the different things I do, I have managed to be on the honour roll.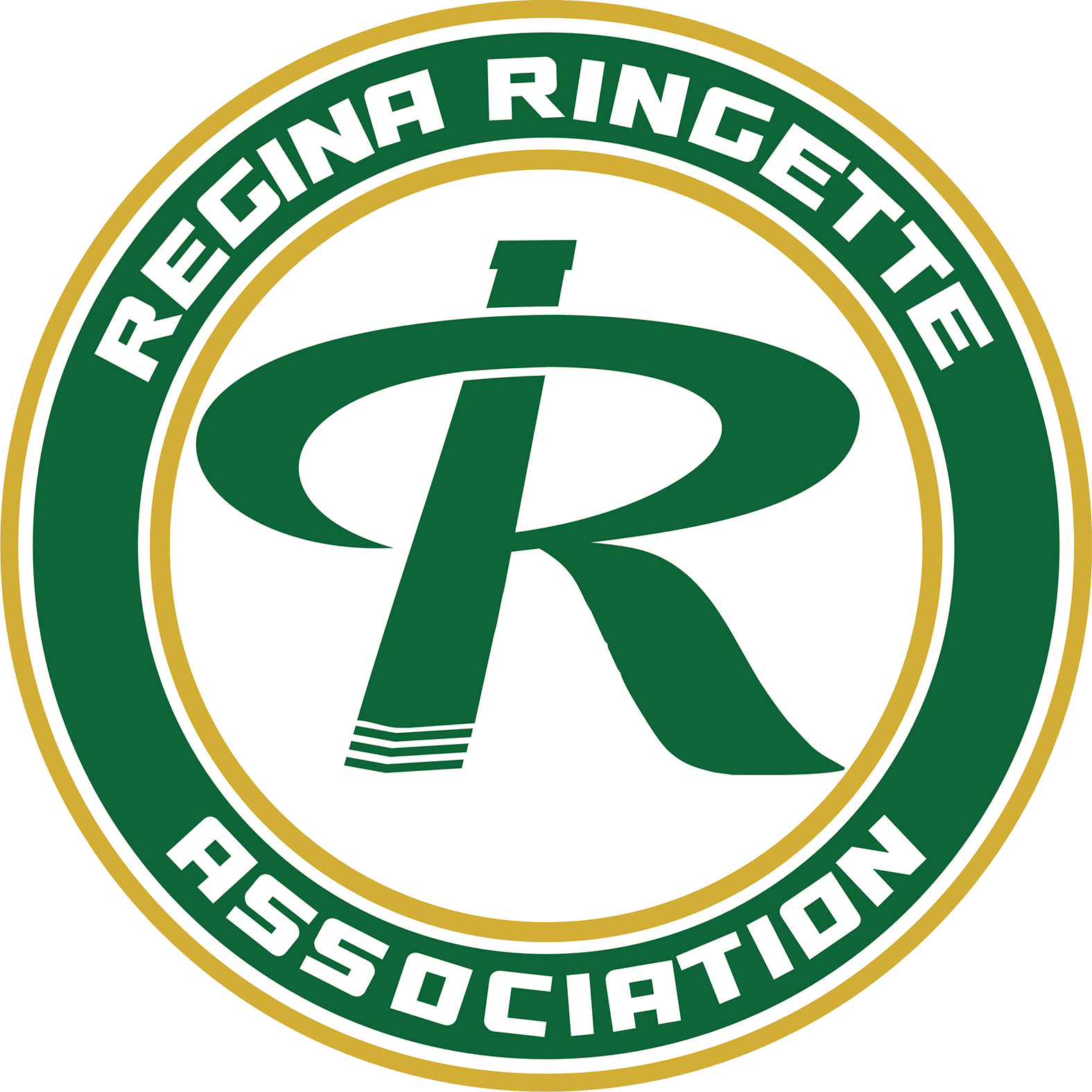 E-1642 McDonald Street, Regina, SK
Regina Ringette Association © 2022 Powered By TeamLinkt