What is Ringette?
Ringette is a unique winter ice sport played primarily by females, but is open to all.  
​Ringette, like hockey, is played on ice with skates, full protective equipment and sticks with six players per team on the ice at once, but Ringette uses a straight stick, a unique face mask and a hollow rubber ring.
​The objective of the game is to score on the opponent by shooting the ring into their net.  There is no intentional body contact, and the rules of ringette make it a wide-open and dynamic sport.
​The emphasis of ringette is on play-making and skating skills.  Players cannot carry the ring across the blue lines on the ice which encourages passing and team play.  Only three players from each team, plus the defending goalie, are allowed in the end zones at the same time, which keeps the play open, puts a premium on sharp offensive moves, and requires defending players to skate close to their opponents.  These features of the game demand the development of keen skating skills that give ringette players fantastic skating speed and agility.
​More About How Ringette is Played
​The game begins much like soccer with the Visiting team being awarded a Free Pass in the Centre Ice Free Pass Circle (known in Hockey or Lacrosse as Face Off Circles).  Free Passes are also ringette's way of restarting games after penalties, violations, goals or any other stoppage of the game such as when two players from opposite teams have joint control of the ring and it becomes immovable.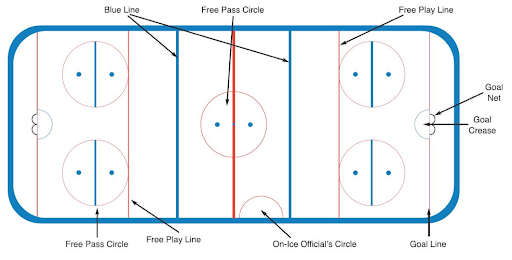 Free Passes – In ringette, these are like free kicks or throw-ins in soccer, like throw-ins in basketball or like the quick restart in lacrosse after a violation.  The ring is placed in the Free Pass circle, in the side nearest their own goal.  There is a small red dot painted on the ice for ring placement on a Free Pass.  One player takes possession and on the the whistle, has five seconds to either shoot or pass to a teammate; they must pass it completely out of the circle; they cannot skate out of the circle with the ring.  During this five seconds, no other player is allowed in the Free Pass Circle.
​Zone Play – The deep offensive and defensive zones extend from behind the goal net to the Free Play Line – the thin red line at the top of the face off circles.  Within these deep offensive and defensive zones, each team is allowed only three skaters (not including the goalie) while at full strength.  If a team has more than one penalty, they are only permitted two skaters in their deep defensive zone.  The first three players are permitted in the zone regardless of their designated position.
​Blue Line Violation – A player cannot carry the ring over a Blue Line in either direction.  The ring must be passed over the blue line to another teammate.  That teammate is permitted to skate ahead of the ring carrier and already be across the Blue Line before the ring crosses it.  This is quite different than hockey where the puck must cross the Blue Line before any offensive player does.  The requirement to pass the ring over the blue line eliminates the situation where one player can carry the ring from one end to the other end.  It also is one of the keys to ringette being such a "Team Game".
​Goal Crease – Neither team, except the goalie, is allowed to enter the goal crease, not even by just  their stick itself.  Doing so will result in a violation and turn the ring over to the opposing team.  If the ring lands in or on the crease, the only player who can touch it is the goalie.  The goalie usually picks up the ring and throws it like a frisbee to a teammate.  The goalie has five seconds to pass it out of her crease and may also choose to hit it with her stick or skate, instead of picking it up and throwing it.
​Two Blue Line Pass – There is no icing in Ringette, but their is a two blue line pass.  When the ring crosses both blue lines, untouched, no player from the team that put it there can touch the ring until one of their opponents does first.  Touching it prematurely is a viloation that sends the ring all the way back to the zone it originally was in for a Free Pass by the non offending team.
​Penalties – Similar to hockey, penalties are called for various infractions.  Most penalties in Ringette are unintentional and are the result of accidently running into someone when attempting to get to a loose ring first; or when checking the ring carrier and missing the check on an oppontent's stick.  Rough intentional body contact of any type is not allowed and the penalty for that is more severe.
History
In 1963, the late Sam Jacks of North Bay, Ontario, created the game of Ringette so that girls in his community would have a team sport to play during the winter months.  His wife, Agnes Jacks, served as the sport's ambassador at many Ringette Championships and at international events until her death in 2005. Recently, Ringette Canada has developed an athlete scholarship that bears her name.
The sport of Ringette was introduced to Saskatchewan in 1973 by Mr. Bob Gotts of Regina, with the Ringette Association of Saskatchewan established in 1976.
​Ringette is now played across Canada and boasts a total registrations of over 30,000 players.  It is also played internationally in a number of countries around the world including Finland, Sweden, the United States, France, Slovakia, Russia, the Czech Republic and Abu Dhabi.
The Game
As with any sport, the rules that govern play can be extensive. The following is a list of the major playing rules:
Fast paced, non-contact ice sport
The game can be played on either indoor or outdoor rinks or inside a gym
Teams consist of between seven and eighteen players, with five skaters and one goaltender allowed on the ice at one time.  In certain situations, however, the goaltender can be pulled and replaced on the ice by an extra skater.
A free pass (the Ringette equivalent of a face off) is used to start play.  The free pass starts inside one of the five free pass circles on the ice surface.
In addition to the goalie, each team is allowed three skaters inside the Free Play Line at any one time.
Players are required to pass the ring over each blue line.  Two blue line passes are not permitted
The goal crease is a semi-circle with an eight foot radius.  Only the goalie is allowed inside the crease.  Once the ring comes to a stop within the goal crease, the goalie has five seconds to put the ring back into play.
Equipment Required
Click here to see list of equipment required.
How we do things
Our sport is divided into divisions based on age. Our season runs from September to April and all league games are played at the various arenas in Regina and surrounding area.  You can expect to play at least 22 league games during the season. In each game there are two periods of 15-20 minutes of stop-time play.  Most teams will have at least one game and one practice per week, and most games and practices last approximately 1 hour.  Teams consist of approximately 14-18 players.  Most teams practice during the season and attend various tournaments.  Some teams even travel out of province!
Our B level teams are divided up equally in order to keep the FUN in our sport.  If teams in our A & AA programs win their respective Provincial Championships they earn the right to represent Saskatchewan at the Canadian Ringette Championships (AA) and Western Canadian Ringette Championships (A).​
U12 (10 & 11 year olds)  is where your child will most likely learn the position they will favour.  The game is more competitive, with many opportunities to participate in tournaments.  In this division a 30-second shot clock is introduced to make the game even faster.
U14  (12 & 13 year olds) is when things really start to heat up.  The game is very fast paced and you can really see what  we mean when we say "It is the fastest game on ice".  Again there are many opportunities for tournaments and participation in Provincial Playoffs.  We offer B and A levels of play at this level.
U16  (14 & 15 year olds) is where the emphasis is on technique and tactics.  You will notice more "finesse" in the game.  We offer B, A & AA levels of play.
U19  (16, 17 & 18 year olds) is a balance between sport, family, school, and work.  The program is more flexible as players have more commitments.  We offer a B, A & AA program at this level as well.
Our 18+ (Open) division (19 and over) offers a place for the mature athlete.  The schedule is very flexible as is required by these players.  We offer C, B & A levels of play.
For more information about the benefits and game of ringette, visit www.ringette.rocks.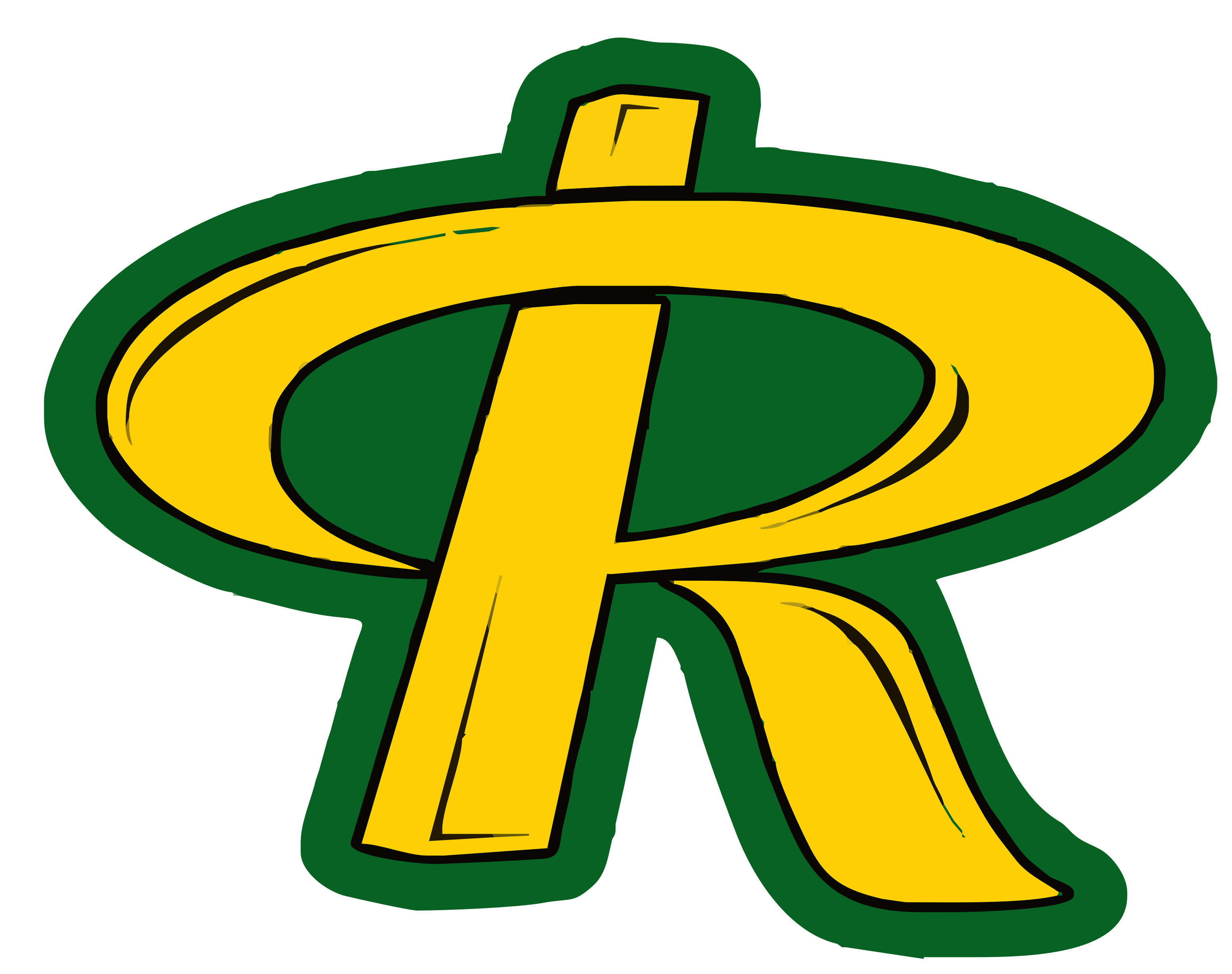 Children's Ringette
The Children's Ringette program provides an age and stage appropriate physical activity experience for young ringette players under the age of 10.
Children's Ringette is focused on creating opportunities that emphasize: 
age and stage appropriate activities
fun and play
grouping children based on skill and readiness
maximum participation and engagement
opportunities to practice learned skills
adapted game play (small area games and mini-nets)
SEASON STRUCTURE
The Children's Ringette year is two seasons:
October to mid-December
January to mid-March
Each season will have a separate registration.
Registration fees cover approximately 10 ice-times per season.
Each ice-time will be a minimum of 45 minutes and a maximum of 60 minutes in length.
DIVISIONS
Regina Ringette offers a Learn to Play Program as well as three divisions in Children's Ringette:
Learn to Play
FUNdamentals 1 (FUN1)
FUNdamentals 2 (FUN2)
FUNdamentals 3 (FUN3)
Learn to Play
The Learn to Play (LTP) division provides children with an introduction to the sport of ringette, offering an opportunity to learn with players of similar abilities.
The ice-times are focused on the development of skills such as skating and stopping, as well as ringette-specific skills like ring control and shooting.
Each ice-time will start with a group activity and then break into smaller, manageable stations to play and work through skills during fun activities.
Ice-times will be on Sundays, dates and times to be determined.
The cost of LTP is $150 per player for each 3-month season.
The LTP division includes children ages 4-8 with little or no skating experience.
LTP Leadership:
One Leader from the Regina Ringette Association will oversee the LTP group based on session plans that have been developed for the program.
Additional on-ice helpers, made up of Parent and Player Volunteers, will help facilitate each ice-time.
All on-ice volunteers will need to be insured through Ringette Saskatchewan, obtain a Criminal Record Check, and obtain the applicable courses deemed necessary by Ringette Saskatchewan and Regina Ringette.
LTP will also require Parent Helpers to volunteer as Off-Ice Greeters at the rink each session.  These parents will be responsible for the dressing room keys, the on-ice sign-in sheet and be present as a general contact.  No experience is necessary, and they will be in contact with the Director of Children's Ringette for any concerns.
FUNdamentals Divisions:
 In the FUNdamentals divisions, new players will participate in on-ice skills evaluations at the start of the season to help place them into the appropriate division and draft them onto teams. Previous registrants will have a graded report card for placement.
Some of the factors being considered to evaluate the participants include:
falling and getting up
skating forward and backward
stopping
ring control - shooting and passing
Coaching:
Each team in the FUNdamentals divisions will have 3 certified Coaches, including at least 1 adult female. Coaches will help to evaluate the participants, draft the teams, and lead their team practices and games using Coaching resources from Regina Ringette. 
Regina Ringette will support all new Coaches through the Coach-the-Coach Mentorship program which will pair a Support Coach with each team and provide additional hands-on training, as well as practice manuals.
Anyone interested in Coaching can either apply at the start of the season on the Regina Ringette website, can indicate their interest on their child's registration, or can contact the Director of Coaching or the Director of Children's Ringette.
All on-ice coaches will need to be insured through Ringette Saskatchewan, obtain a Criminal Record Check, and obtain the applicable courses deemed necessary by Ringette Saskatchewan and Regina Ringette.
Once formed, each team will need additional Parent Volunteers to fill a Manager and/or a Treasurer position, as well as a Team Covid Safety Officer position.
FUN1
FUN1 is for children who are new to ringette or new to skating, learning basic game structure, and still developing basic skills.
Each 45-minute ice-time will be divided into:
30 minutes of practice time concentrating on the development of skating and basic ring skills, an introduction to some of the rules of ringette, as well as fun games and team activities.
15 minutes of game time against another FUN1 team.
The Game portion of each ice-time will be:
Cross-Ice format
3-on-3
No Goalies or goal creases
No Passing lines
2-minute shifts (facilitated by the Coaches)
No officials
No Scoreboards or Standings
No Game sheets
The FUN1 division will have 10 ice-times each season, generally 1 per week, and ice-times may be any weekday evening or on the weekend.
Teams in this division will collect a nominal player fee to cover such things as:  the league equipment deposit, team clothing, team pictures and team bonding activities.
FUN2
FUN2 is for children who have improved their skating ability, are ready to learn more rules of ringette, and have developed some basic skills.
Each 45-60 minute ice-time will be divided into:
50-60% practice time concentrating on the development of skating skills, ring skills, passing, shooting, checking, basic goalie instruction, and an introduction to the rules and game concepts of ringette.
20-30 minutes of game time against another FUN2 team.
The Game portion of each ice-time will include:
Half-Ice format
3-on-3 skaters plus a goalie on each team
Goalies use goal sticks only and players will rotate through the goalie position
Goal Creases (one existing, one hand-drawn)
One Passing line (the existing 'ringette line')
2-minute shifts (facilitated by a Timekeeper using the buzzer)
1 Official to enforce penalties and violations (Coaches can help to enforce rule violations) with safety top of mind
No Scoreboards or Standings
A modified Game Sheet
The Home team on the Schedule will provide a Timekeeper and the Game Sheet, and the Visiting team's Coaches will be responsible to draw one Goal Crease.
FUN2 teams will also be allocated additional practice ice (2-3 per month) that they will pay for out of fees collected by the team.  Registration fees cover game-day ice and referees.
The FUN2 division will have 14-16 ice-times each season, approximately 1-2 per week, and ice-times may be any weekday evening or on the weekend.
Teams in this division will collect a nominal player fee to cover such things as: the league equipment deposit, extra team practice ice, team clothing, team pictures and team bonding activities.
FUN3
FUN3 is for children who demonstrate that they have acquired the physical, cognitive, and social readiness for more challenging play.
FUN3 will play full-ice, 1 hour ringette games with Ringette Canada Rules and mini nets.
Games will be 2x17-minute stop time periods
Games are officiated by two referees
Goal Cap of 3 goals per player, per game
Regular Game Sheet (provided by the home team)
Scoreboards and Standings
1 Timekeeper (visitor) and 1 Scorekeeper (home) each game
Teams in FUN3 will be allocated additional practice ice weekly that they will pay for out of Team collected Fees. Registration fees cover game-day ice and referees.
Ice-times in this division will be 1-2 times per week and may be any weekday evening or on the weekend.
FUN3 teams often participate in nearby tournaments throughout the Ringette season.
Teams in this division will collect a nominal player fee to cover such things as: the league equipment deposit, team practice ice, tournament registration/travel, team clothing, team pictures and team bonding activities.
EQUIPMENT
Full ringette equipment is required. Jerseys and Goalie equipment will be provided.
HOW TO REGISTER
On the Regina Ringette website, please register directly for the Children's Ringette program.
FREQUENTLY ASKED QUESTIONS
Why do FUN1 and FUN2 play Cross-Ice and Half-Ice games?
These divisions play adapted games on a smaller area to ensure more touches, interactions, shots on net and passes for the participants. Teams will be around 9-12 players to ensure the majority of players are participating at a time. With these adaptations, children can experience maximum participation, practice learned skills and move through the FUNdamentals divisions based on skill and readiness.
Will teams be re-drafted at Christmas?
We do not expect to draft new teams at Christmas. Some players may be moved up to the next division, but we expect that most teams will stay in-tact for the full ringette year. Your Commissioner will communicate any changes and will help you navigate any player movement off or onto your team.
What are Jamborees?
Jamborees are like mini tournaments for the FUN1 and FUN2 divisions. They are a more formal way for participants to have some competition at their level of play. Jamborees will consist of some skills, some fun activities, and some gameplay. Jamboree gameplay will follow the same rules as regular gameplay for the division.
Players will register for a Jamboree individually, and the Coordinators of the Jamboree will place players with their regular teammates for the Jamboree activities.
We expect each Local Association will host 1 Jamboree per ringette year - in Regina, Buffalo Plains and Saskatoon.
CHILDREN'S RINGETTE FAQ
E-1642, McDonald Street,
Regina, SK
Regina Ringette Association © 2021 Powered By TeamLinkt