Send your photo along with a brief (100 words or less) message to webmaster@reginaringette.sk.ca to have your achievement posted on this page.
2007 Buffalo Days Parade


Honorable Mention in the Service Clubs/Associations category!
 
---
Junior A Panthers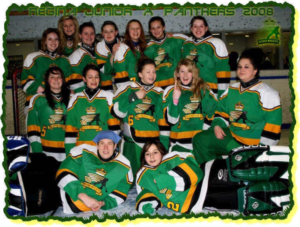 We want to thank our players for the caring and respectful way that they have treated each other, their coaches and their opponents throughout this playing season. The players on our team have developed a very strong relationship with each other and with their coaches because of their very positive and friendly attitudes. We want to thank our players for working hard during games and practices, for always showing up on time and for giving your coaches your undivided attention while we were instructing you. You are truly a team that every coach would love to work with.
We also want to thank our team parents for their friendship, the many laughs we shared together and their commitment to ensure that this year would be a successful and memorable one. We greatly appreciate your overwhelming support and encouragement of our coaching programs.
Larry Way, Crystal Davis and Del Aebig
 
---
Tween Rumble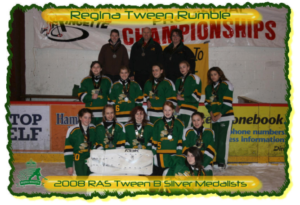 Congratulations to the Regina Rumble on winning Silver at the 2008 RAS Tween B Provincial Championships.
The Rumble was the only team to finish with a 4 – 0 record at the end of round robin play. The coaches and fans are very proud of the Rumble players, it was a fun weekend filled with great ringette and lots of memories. 
---
Petite Ringers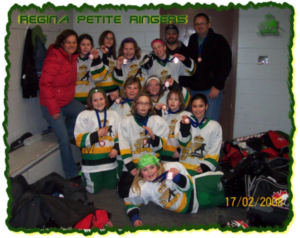 The Regina Petite Ringers participated in the Saskatoon City of Bridges tournament on February 15-17.
The girls faced a very strong team from Edmonton in their first game and struggled to a loss without their head coach (Kayla Turgeon) who had to stay at home to work.  It was a tough start to the tournament and the next morning they played a tough Saskatoon team.
The girls were inspired by a telephone pep talk from coach Kayla and came out flying.  Unfortunately, despite their hard work, they were down 6-4 with 4 minutes left when one of our girls (Sarah) went down hard and injured her lower back.  Everyone was concerned for her well being as she was carted away in an ambulance.  After the lengthy delay we were forced to play the last 4 minutes straight time.  Rallying around their injured teammate, the girls surprised everyone by scoring 3 goals before the buzzer and won the game 7-6!  Thankfully, we received good news that Sarah was going to be okay and got out of the hospital with a bruised tail bone. Unfortunately she was unable to play the rest of the weekend but she made up for it by cheering the girls on the rest of the weekend.
Needing a win or tie in the third game to advance to the bronze medal game, the girls kept everyone on the edge of their seat by hanging on to tie a determined Saskatoon team 10-10.  After another evening of water sliding and a good sleep they were ready to face another Saskatoon team in the bronze medal game.  The Ringers played an excellent game and pulled away 13-8 to take home the bronze medal!
Once again, this group of girls really showed their coaches and parents just how much they've learned and grown through their hard work and determination.  We are all very proud of their accomplishments this season.
 
---
Tween AA Aces
Congratulations to the Regina Tween AA Aces – Saskatchewan Provincial Champions 2008
The Aces are now known as Team Saskatchewan Tween AA and will be off to the Western Canadian Ringette Championships in Prince George British Columbia from March 26 – 29, 2008.
---
Petite Ringers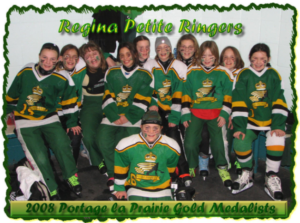 The Regina Ringers traveled to Portage la Prairie on January 25-27, 2008 for a Petite tournament where they faced some new competition from Manitoba.
The girls' first game was an early start on Saturday morning where they really worked hard together and won 9-4.  They carried that momentum into their second game that afternoon game and won quite handily. After a successful day of Ringette and with a 2-0 record we decided it was time for some more fun! We had a team meal together and spent some time in the pool.  Another early morning Sunday victory had the Ringers in the gold-medal game.
Their strong play continued in the final game where they outplayed the opposing team and brought home the gold medal.  All eleven girls on the team worked hard all weekend, skating in both ends of the ice, picking up their passes, and working on team play.
Every girl should be proud of their improvement and the success they experienced, both as individuals and as a team. Coach Turgeon, Cale and Flaman could not be any happier with the way this team has improved and come together since the beginning of the year.  It is definitely an enjoyable and memorable season for all!
---
Novice Cobras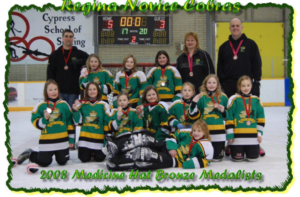 The Regina Novice Cobras won the Bronze medal in Medicine Hat, AB Tournament  Feb 8-10 2008.
There was a total of 20 novice teams in the tournament, the girls should be proud of them selves for making it to the top 3.
Coaches Cindy, Kelly & Ron would like to express our appreciation to the parents for making sure the girls got enough rest over the weekend, even though there was two water slides in the hotel.
We are very proud of our girls for putting 100% into every game.
---
Novice Cobras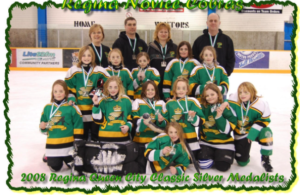 Congratulations to the Regina Novice Cobras Who won the Silver medal at the Regina Queen City Classic Tournament which was held Feb 1 – 3/08.
---
Tween Barracudas

Congratulations to the Regina Barracudas who won Gold Medals in the Tween B Division at the Esso Golden Ring in Calgary on January 20, 2008.
The team finished the tournament with a 6-0 record.
---
Junior AA Stingers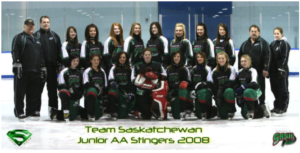 Congratulations to the Regina Junior AA Stingers who received the Silver Medal in the Junior AA Division at the Esso Golden Ring in Calgary on January 20, 2008.
The team finished the tournament with a 4-2 record.
---
Novice Cobras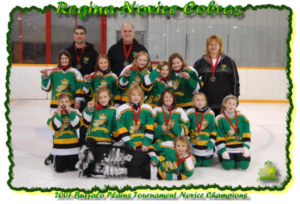 Congratulations to the Novice Cobras for winning the GOLD MEDAL in the Buffalo Plains Ringette tournament in Dec 2007.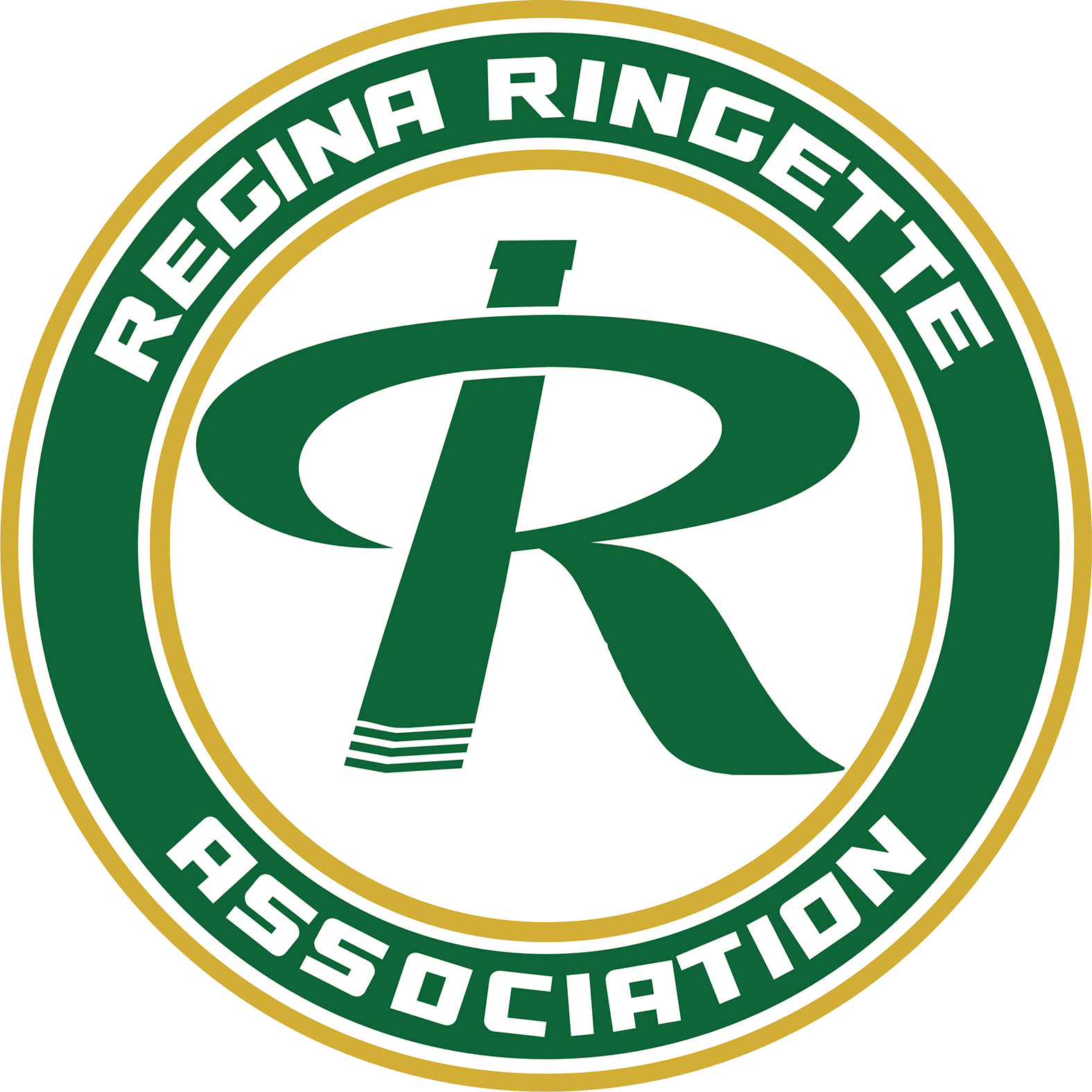 E-1642 McDonald Street, Regina, SK
Regina Ringette Association © 2022 Powered By TeamLinkt