Send your photo along with a brief (100 words or less) message to webmaster@reginaringette.sk.ca to have your achievement posted on this page.
Tween B Panthers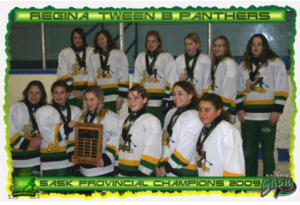 At the start of the season we set three goals for our team. We wanted to increase the overall skill level of each of our players, we wanted them to play in an atmosphere where they would have fun and we wanted to try to win the Provincial Championships.
We accomplished the last one of our three goals on the weekend by winning the Tween B Provincial Championships. Through their hard work, commitment to team practices and their willingness to learn, our team players have improved their skills faster than any team we have worked with before.
In the first half of the season their record was two wins, eight losses, two ties and they scored an average of 4.25 goals per game. Our record for the last twelve games they played is ten wins, two losses and they scored an average of 8.75 goals per game. At the start of this season Sarah Henry our goalie, had only three months goalie experience but her skill progression as a goalie this year has been spectacular due to her enormous desire to excel as a goalie. All of our players have worked hard during practices and games, they take instruction extremely well, they have very positive attitudes and they execute our team plays and patterns in a much disciplined manner.
We want to thank our team parents again for the fantastic support they have given our team right from the start of the year and for cheering on our players so enthusiastically during the Provincial games.  This year's Panther team is truly a magical team and we have been very fortunate as coaches to be able to work with this exceptional group of players and parents. Thank you for making this year a very special and memorable year for the Panther coaches.
Larry Way, Tony Windl, Carla Windl
 
---
Tween B Razors
I would like to congratulate the Tween B Regina Razors  on a 2nd place finish at provincials on March 6-8, 2009. The final was an awesome game played against the Regina Panthers that went into sudden death overtime. It was a great weekend of some really good Ringette.
I would also like to take this time to congratulate the Razors on other accomplishments this Ringette season.  The girls participated in the Calgary Golden Ring this year taking silver with a good game against the Buffalo Plains Phantoms with a score of 3-1, with those 3 goals being half of the 6 goals in total the Razors had against them. They also participated in the Queen City Classic and placing 2nd and winning another silver medal. We also took up the City of Bridges Tournament in Saskatoon where we took the gold medal in a final game of  9-2 against the Saskatoon Toxic.
I would like to take this time to say a big thank you to the parents of the Razors for making this year a good one for all on the team, and making my job so much easier.
I have a special thank you for the coaches of the Razors Chris Budzich, Greg Taylor and Lori McMillan. You guys have done an outstanding job this year. You guys truly made this team a team, and a team is how they have played since our very first game this season.  I cannot say enough as to how these coaches have made our girls feel like part of a team. I know my daughter has had one of her best years ever.
To all the girls on the Razors – thanks so much for a great season of ringette. You girls always brought a smile to my face when I walked in the dressing room and I was always so proud when you guys were on the ice and playing your hearts out.  Again thanks for an amazing season of Ringette. I couldn't have done this without patient parents, great coaches, and awesome girls to make the season a great season!
Stacey Winkler, Manager – Regina Razors Ringette Team
 
---
Tween AA Aces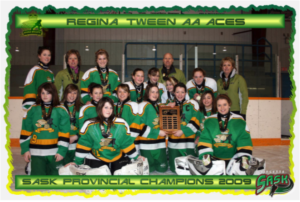 Congratulations to the Tween AA Aces – Saskatchewan Provincial Champions 2009
 
---
Petite Havoc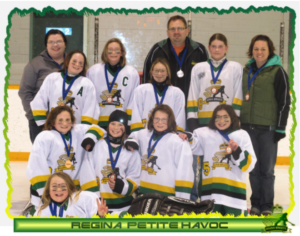 Just a few short days after winning the Silver medal in the Queen City Classic, the Regina Havoc made the trek to Saskatoon for their final tournament of the season.  With Kendyl in Disney World, and poor Hannah suffering from pneumonia, the remaining skaters (Brieanna, Michaela, Katelyn, Cassidy, Jessica, Mikayla, Madison, and Michelle) were asked to play different positions and extra shifts, and Georgina was called upon to make a number of outstanding saves.  The girls all stepped up and played some of their best Ringette of the season, surprising the coaches and parents by winning their pool and making it to the medal rounds.  After losing a tough semi-final to the Saskatoon Breakers, they regrouped to face a tough Regina Ice Devils team in the Bronze final.  It was a great goaltending duel (both named MVP) that went down to the wire.  Trailing 2-1 with just over a minute left, the Havoc girls did not give up and scored 2 late goals, then an empty netter to capture the Bronze 4-2.
Congratulations to the Havoc girls on your Bronze medal in Saskatoon, and for going 5 for 5 medaling in tournaments this year!  You've all progressed and have come together as a team to play some outstanding Ringette.  Your coaches and parents are extremely proud of your accomplishments this year.
Coach Kayla, Mike, and Shauna
 
---
CONGRATULATIONS – Kirsten Hack of Regina for becoming a member of Team Canada U19 Team West.
 
---
Open B Blades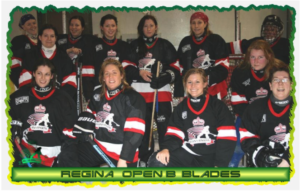 Congratulations to the Regina Blades Open B team on your Silver Medals at the Regina & Saskatoon Tournaments.  Last year the Blades team took a year off from playing Ringette but decided to come back this year to play again. This team is a pleasure to coach because of the friendship and the respect the players have for each other. We look forward to the remainder of the season and to competing for the League Championship.
Larry Way, Larry Ekvall, Janis Way
 
---
Tween B Panthers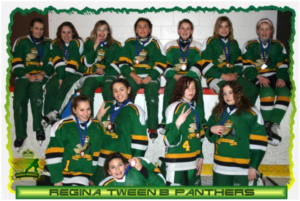 We want to congratulate our players for making the top four in both the Regina and the Saskatoon tournaments. In Saskatoon we were the only Tween B Team to win all four games in round robin play and we scored fifty-nine goals in the six tournament games we played.  Our team played every game with intensity, with discipline and with heart. We are looking forward to competing in the Tween B Provincials and in the League Championships later in the season. We want to thank our players for continuing to work hard, for having positive attitudes and for making the year a lot of fun for their coaches. We want to thank our team parents again for their support of our programs and for cheering on our team during our games.
Larry Way, Tony Windl
 
---
Petite Ice Catz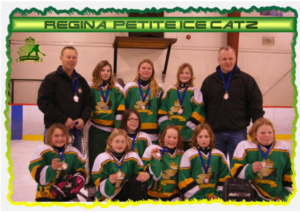 Congratulations to the Petite Ice Catz on bringing home the Silver Medal on the Valentines weekend in Saskatoon. The girls played fantastic all weekend and really did themselves proud. The weekend got off to a great start on Friday morning with a 7 – 3 win over the Saskatoon Fury. Later that day they played to an inspired 5 – 5 tie with the Regina Ice Devilz.
On Saturday the girls suffered a setback to a team from St. Albert, Alberta, and their amazing goalie. They ended Saturday with a 8 – 3 win over the Regina Cobras.
On Sunday morning in the Semi Final, the girls fell behind the Ice Devilz 2 – 0 early, but battled back to force overtime. In the overtime period it was wide open back and forth with the Catz scoring the winner with just over a minute left. The girls ran out of steam in the Final, but Silver looked just great on them.
We would like to thank our Coaches, Mike and Pete, Managers Tara and Kelly, and Trainer Karen, and especially our girls, Liz, Hayley, Aubrie, Hannah, Allison, Natalie, Claudia, Miranda, and Brooke ( and also Michaela and Tessa who couldn't make it, but were there in spirit) for an amazing and exciting weekend…. Go Ice Catz….from all the Families and Friends.
 
---
Tween B Panthers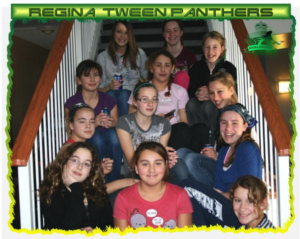 We want to congratulate our Panther players for finishing in the top four of sixteen Tween B teams entered in the Calgary Golden Ring. We lost in overtime in the cross over game which determined which team advanced to the final, but we were just one break away from making the gold final.
We also want to congratulate our team for winning to right to represent Regina at the Tween B Provincial Championships along with the Regina Razors. Through hard work and a positive attitude this team has transformed themselves from the Bad News Bears in October into one of the most disciplined teams in January that we have ever worked with. We are very excited about attending the Regina, Saskatoon and Tween B Provincial tournaments as well as the League Championships with our team.
We want to thank our team parents for their willingness to allow us to provide an extensive ice and dry-land practice program for our team and to give the girls the opportunity to attend six tournaments. We would like to also thank our team parents for their support, their friendship, and for all the fun and enthusiasm they bring to our team.
Thanks for the memories: Larry Way, Tony Windl, Krystine Kezama, Kate Aitcheson
 
---
Petite Havoc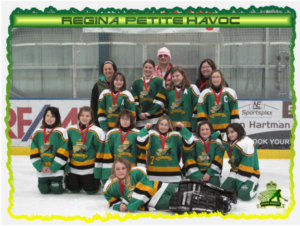 The Regina Havoc loaded a bus early Thursday morning and made the trip to Calgary, Alberta for the world's largest ringette tournament. The girls lost their first game 7-6 against a tough Sherwood Park team, but that would not bring them down. They went on to stomp the Calgary Toxic 8-0! The girls were on a roll, winning their next game versus the Calgary Storm. This meant that the Havoc would advance to the quarter-final game, which once again they dominated! They won the semi-final game 9-4, and were on the the final. The final game was once again versus the tough Sherwood Park team, and even though they did not win, the Havoc players worked very hard and came home with a proud silver medal.
This team is an amazing team, and we are very proud of how far the Havoc got in the tournament. It was nice to see each individual player play a role in our success, and it was great to see the team come together.  The weekend was full of many laughs with the girls as well as with the parents and it was a great success in everyone's eyes!
As coaches, we would also like to take this moment to congratulate the girls in the two medals they previously received. The Regina Havoc were gold medal winners at the Hellraisers tournament in Odessa, and they were bronze medal winners at the Ice Catz tournament in Wolseley.
Great season so far girls, and good luck in the Regina and Saskatoon tournaments.
Coach Kayla, Coach Mike (aka Tod), and Coach Shauna!
 
---
Petite Ice Devilz
Congratulations Petite Ice Devilz on a great effort in Medicine Hat!  Even though we lost in the Bronze medal game, the rest of the weekend was a HUGE success.  Finishing in 4th place out of 15 teams is a tremendous accomplishment.  Our girls won all 4 games in the round robin taking them to the quarter final.  With a win over Calgary our girls found themselves facing Airdrie in the semi final.  What a great game that was!  At the end of regulation time the score was 5 to 5.  Oh no, sudden death overtime!  Next team to score goes for the GOLD!  It was tough but our girls fell short and found themselves facing Pilot Butte in the Bronze medal game instead.  Ice Devilz, you should be so proud of yourselves, in all seven games you played with heart and determination!  You really are a TEAM!  Keep up the great work in the rest of the season.
Go ICE DEVILZ Go!
 
---
Novice Blizzards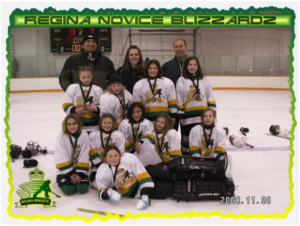 Congratulations to the Regina Novice Blizzardz for their Silver Medal performance at the Davidson Midway Tournament.  We would like to thank the Black Widows Ringette team for hosting this fun event.
 
---
Novice Rockets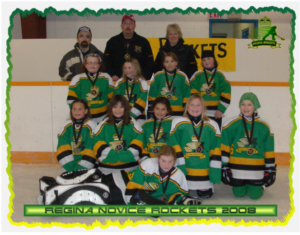 The Team Staff would like to congratulate the Rockets for their GOLD medal win on November 30 at the Midway Tournament in Davidson.  Sponsored by the Black Widows Ringette team from Saskatoon.
Congratulations!
The girls worked extremely hard and deserved every bit of glory they got when receiving their medals.  The girls worked well together as a team and had fun on and off the ice.
 
---
Petite Ice Devilz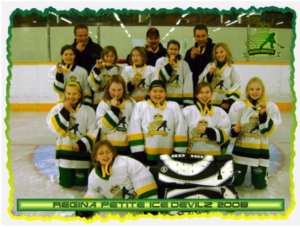 The Petite Ice Devilz tasted GOLD when they won all three games at the Wolseley tournament on December 6, 2008.
It was a long day but the girls had fun!  Thank you Ice Catz for putting on this well run tournament.
 
---
Novice Ice Breakers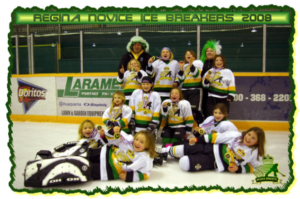 The Novice Ice Breakers brought home gold from the Portage La Prairie tournament which was held from November 21-23, 2008.
 
---
Belle AA Bandits
The Belle AA Bandits received the SILVER MEDAL at the Edmonton Woods Invitational Tournament which was held from November 21 – 23, 2008. The Bandits tied Edmonton 3 – 3 in the first game, then proceed to beat Saskatoon 9 – 3, followed by TORL All Stars 8 – 4 and Winnipeg Magic 9 – 2. They were up against Calgary for the GOLD medal matchup and Calgary won 7 – 3.
Congratulations Bandits!
 
---
Tween B Panthers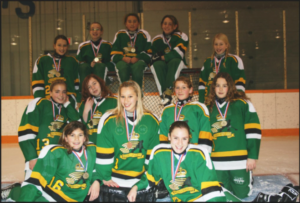 The Regina Tween B Panthers want to thank the following teams for entering our one day Tournament in Milestone on November 15: Regina Razors, Regina Voodoo, Regina Shock, Buffalo Plains Riot and the Saskatoon Toxic. We want to thank our team parents for selling raffle tickets, timekeeping and cheering on our team during their games. This year's Panther team is a joy to coach because of the player's positive attitude, their willingness to learn new skills, their fun loving ways and the awesome support we are receiving from the team parents.
We are looking forward to the rest of the season.
Larry Way, Tony Windl, Krystina Kezama, Kate Aitcheson
 
---
Novice Panthers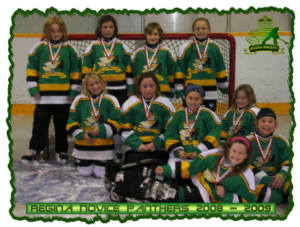 We would like to say a great Big Congratulations to the Panthers for their silver Medal on November 8th at the Odessa Tournament put on my the Buffalo Plains Hellraisers.
The girls worked well as a team and had fun doing so.  Your Coaches are proud of you. Keep up the good work.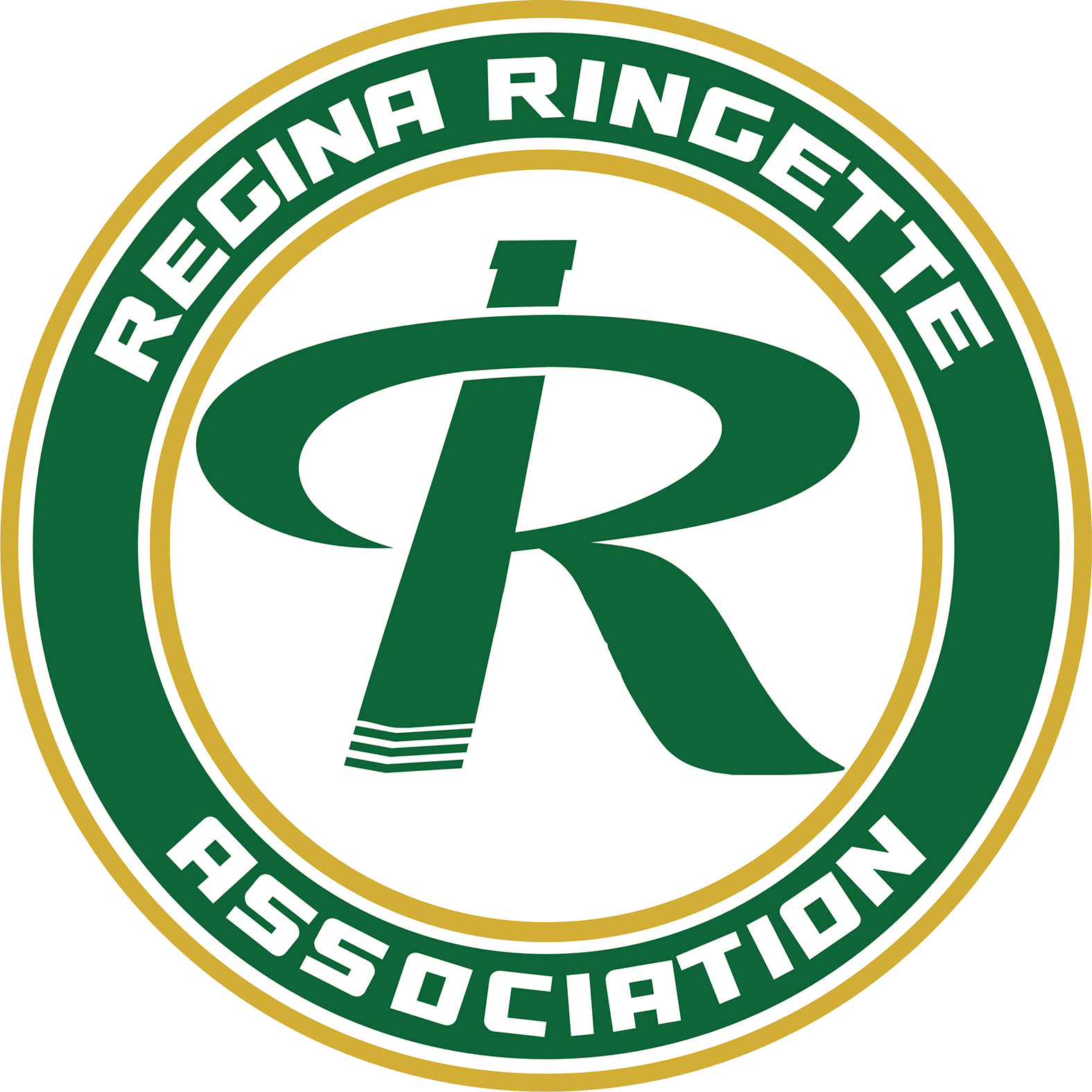 E-1642 McDonald Street, Regina, SK
Regina Ringette Association © 2022 Powered By TeamLinkt